Contents
If you're approaching menopause or well beyond it, there are several ways to treat vaginal and urinary symptoms - from over-the-counter lubricants and moisturizers to prescription vaginal estrogen and systemic hormone replacement therapy.
Many of these prescription treatments you may have already heard of, mainly because they are FDA-approved and backed by decades of research. But there's a relatively new FDA-approved treatment that you may not have heard of - and we're going to cover everything you need to know about its uses, safety, and efficacy.
In this article, we're talking about vaginal DHEA, specifically the medication known by the brand name Intrarosa® (prasterone). This FDA-approved vaginal insert is available by prescription only.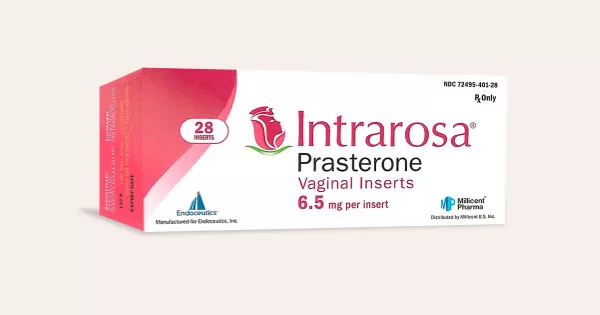 Intrarosa (prasterone) is a vaginal DHEA suppository that's inserted daily with a vaginal applicator. Intrarosa has been shown to:
Improve the condition of the vaginal skin
Balance vaginal pH
Prevent painful sex
Intrarosa can also can be used to treat and prevent other symptoms caused by menopause - including vaginal dryness, frequent UTIs, and urgency.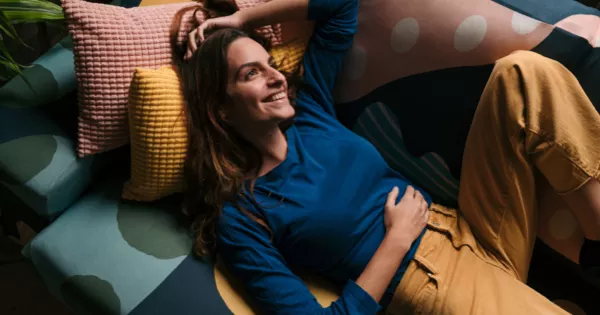 1. Intrarosa does not contain estrogen
Strictly speaking, Intrarosa inserts do not contain estrogen, but they do contain a different ingredient that your body naturally converts into estrogen.
The active ingredient in Intrarosa is known as prasterone, a steroid that's a form of the hormone DHEA that your body naturally produces.
Intrarosa works by releasing DHEA directly into your vagina which the vaginal cells then convert into estrogens, including estradiol, and androgens, including testosterone (1).
The idea behind vaginal DHEA is that instead of releasing estrogen and testosterone directly into your vagina, the vagina can produce these hormones with the help of DHEA. And, since vaginal DHEA is only applied directly to the vagina, estrogen and testosterone are not released throughout the rest of the body.
In summary, Intrarosa is a non-estrogen option that enables the vagina to produce its own estrogen and testosterone.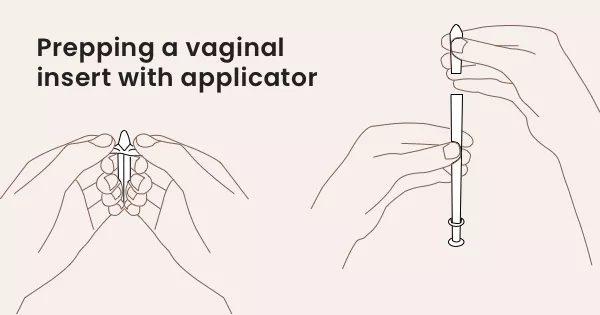 2. Intrarosa does not significantly increase estrogen levels
Intrarosa does not increase estrogen levels beyond what is considered the normal range for post-menopausal women (2).
Women may take comfort that Intrarosa, like low-dose topical vaginal estrogen treatments, can be safer than systemic hormones like an estrogen pill or patch.
The chart below shows that treatments like Intrarosa, vaginal estradiol cream, and vaginal estradiol suppositories do not increase estrogen levels in the bloodstream (3, 4, 5).
| Medication | Brand name | Standard dosing | Typical serum estradiol level (pg/mL) | Estrogen blood levels within normal post-menopausal range? |
| --- | --- | --- | --- | --- |
| Estradiol vaginal cream 0.01% | Estrace | 1 gram of cream (.1mg of estradiol) two times per week | Variable | Yes* |
| Estradiol vaginal suppositories 10mcg | Vagifem | 1 mcg two times per week | 4.6 | Yes |
| Prasterone (DHEA) 6.5mg | Intrarosa | 6.5mg daily | 5 | Yes |
Intrarosa vs. Estradiol
There are no studies that directly compare vaginal DHEA (like Intrarosa) to vaginal estrogen (like estradiol). But given that vaginal DHEA produces both estrogen and testosterone, it might be better than vaginal estrogen.
3. Studies show that Intrarosa can improve vaginal and urinary symptoms
A board-certified doctor can prescribe Intrarosa to treat painful sex (that's what it's FDA-approved to treat). However, studies have shown that Intrarosa can also be effective in rebuilding the vaginal skin and balancing vaginal pH - which can help prevent vaginal dryness, irritation, burning, and frequent UTIs.
In 2016, the manufacturers of Intrarosa published results from a randomized controlled trial of Intrarosa. After 12 weeks, participants who used Intrarosa showed significant improvements in the overall health of the vaginal environment (5).
Intrarosa reduced the severity of pain during sex
Intrarosa improved vaginal pH to healthier ranges
Intrarosa improved the number of surface layer skin cells in the vaginal walls
4. The most common side effect is vaginal discharge
Like any prescription medication, when taking Intrarosa, there are some side effects to be aware of. In short-term studies of Intrarosa, vaginal discharge was the most common side effect, reported by 6% of study participants. An abnormal pap smear was reported by 2% of study participants (5).
Longer-term studies are reassuring regarding uterine safety. In one study, 422 women received DHEA for 52 weeks, and samples of endometrial tissues showed no changes among any of the participants (3).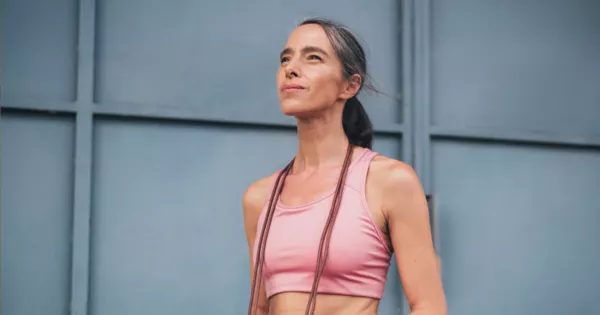 5. It may be appropriate if you have a history of breast cancer
The Intrarosa boxed information states that women with a history of breast cancer cannot take Intrarosa, since the body converts DHEA into estrogen.
However, in 2021, the American College of Obstetricians and Gynecologists released new and updated guidelines for women with a history of breast cancer who suffer from vaginal and urinary symptoms.
If non-hormonal treatments do not alleviate symptoms, then low-dose topical estrogen may be used.
If low-dose topical estrogen is not an option, then DHEA (such as Intrarosa) may be used.
Although DHEA is not an estrogen, it stimulates estrogen production. So some oncologists may not be supportive of it in certain cases.
Remember, you should always consult your oncologist and become informed of the risks and benefits in your particular situation. And, if you're not comfortable with even a small amount estrogen, DHEA probably isn't the right choice for you.
6. Intrarosa is expensive and your insurance may not cover it
The list price for a month's supply of Intrarosa without insurance is around $300. Some insurance plans may cover Intrarosa. However, because Intrarosa is only FDA-approved to treat painful sex, your insurance may not approve it for other menopause-related symptoms like vaginal dryness, irritation, burning, or frequent UTIs.
Intrarosa coupon
For people with non-federal insurance, the Intrarosa manufacturer website offers a discount program. With the Intrarosa savings program, you may be able to obtain a prescription for as little as a $35 co-pay per 30-day supply. Of course, how much Intrarosa costs you will depend on your insurance, area, local pharmacy prices, and availability.
Does Medicare cover Intrarosa?
For those who have federal insurance like Medicare, the Intrarosa manufacturer website offers a separate coupon program, but terms and conditions apply.
Intrarosa alternatives
If you're looking for an Intrarosa generic, you won't be able to find one on the market. However, at Interlude, we offer an Intrarosa alternative: vaginal estrogen cream is just as effective as Intrarosa. Plus, it's FDA-approved and backed by decades of research. And, it's affordable. At Interlude, we offer vaginal estrogen cream starting at $39 for a 2-month supply.
Is there any benefit to using DHEA supplements?
DHEA supplements can be purchased over-the-counter and are very popular. Marketers claim that their DHEA supplements do many things like hormone balancing, mood lifting, and treating vaginal dryness and pain. However, these are just marketing claims. There is no clinical evidence to suggest that DHEA supplements have any benefit for menopausal or post-menopausal women.
7. Our conclusion
Intrarosa pros and cons
The data is compelling: Vaginal DHEA is worth considering to help eliminate vaginal and urinary symptoms due to menopause, and Intrarosa is the only FDA-approved vaginal DHEA medication on the market.
Pros
Vaginal DHEA alleviates painful sex, as well as other vaginal and urinary symptoms.
DHEA converts into both estrogen and testosterone, and both can be helpful for vaginal health. Vaginal estrogen only contains estrogen.
Vaginal DHEA does not contain estrogen, but it stimulates estrogen to be produced inside the vaginal cells. However, in terms of safety, vaginal DHEA isn't necessarily better than vaginal estrogen, since vaginal estrogen has not been shown to carry serious risks.
Once the suppository melts, a little medication can leak out. This can help to treat both the inside of the vagina and the opening of the vagina. For a lot of the women, vaginal estrogen suppositories may only treat the inside of the vagina.
Studies show that Intrarosa is safe and does not change uterine tissues. Although, neither does vaginal estrogen.
Cons
Intrarosa requires daily insertion, while vaginal estrogen requires twice weekly insertion. Although some people may like the daily dosing, others may find it is inconvenient.
The medication can get a little messy, so it's recommended to use before bed.
Next steps
At Interlude, our doctors will support you every step of the way to ensure your treatment is working to promote your best vaginal and urinary health after menopause. Start your journey with us today. Take our quiz, browse our treatments, or learn more about how it all works.
Disclaimer: This information isn't a substitute for professional medical advice, diagnosis, or treatment. You should never rely upon this article for specific medical advice. If you have any questions or concerns, please talk to your doctor.
References
(1) Labrie F, Archer DF, Koltun W, et al. Efficacy of intravaginal dehydroepiandrosterone (DHEA) on moderate to severe dyspareunia and vaginal dryness, symptoms of vulvovaginal atrophy, and of the genitourinary syndrome of menopause. Menopause. 2016;23(3):243-256. doi:10.1097/GME.0000000000000571
(2) The NAMS 2020 GSM Position Statement Editorial Panel. The 2020 genitourinary syndrome of menopause position statement of The North American Menopause Society. Menopause. 2020;27(9):976-992. doi:10.1097/GME.0000000000001609
(5) Intrarosa [
package insert
]. Waltham, MA: Amag Pharmaceuticals; 2018.