Shopping for a vaginal lubricant can be overwhelming. Pharmacy shelves are full of lubricants claiming to be oil-based, water-based, silicone-based, warming, tingling, moisturizing, natural, organic, doctor-recommended, OBGYN-approved, orgasm-enhancing, long-lasting, and libido-boosting, preservative-free, or non-toxic. But many of these lubricants can irritate or dehydrate your delicate vaginal skin.
In this article, we're going to cover everything you need to know about lubes, which are the best vaginal lubricants, what lubes can help with, what lubes can't help with, and how to choose a good lubricant.
Menopause and Vaginal Dryness
When it comes to perimenopause, menopause, and what happens to your vagina as you get older, you probably haven't received much helpful information from your doctor.
Vaginal dryness is common as estrogen levels decline through menopause and beyond. Up to 84% of post-menopausal women experience vaginal dryness, and this can make sex extremely painful or totally impossible. Symptoms can start in your 30s or 40s in the perimenopausal years. Vaginal dryness can be worsened in women who have had breast cancer and who are receiving tamoxifen or aromatase inhibitors.
Surprisingly, only 7% of women get a prescription treatment (1). As a result, 93% of women who have painful sex are either suffering through pain, avoiding penetrative sex, or looking for an over-the-counter lubricant.
Managing vaginal dryness can be a challenge, and most women will not be satisfied with lubricants. That's why we recommend starting with the best vaginal lubricant possible, and if prescription treatment is still needed (which it often is), our medical team is here to help you.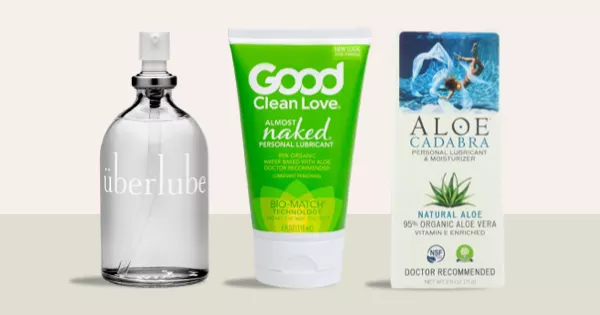 Silicone-based Vaginal Lubricants
Silicone-based vaginal lubricants are typically the best lubricants for women in perimenopause and menopause. They're slippery, long-lasting, and non-irritating. Unlike water-based vaginal lubricants, silicone-based vaginal lubricants don't dry out the skin, and they don't have preservatives or other irritating ingredients. Interestingly, one study of breast cancer survivors showed that silicone-based lubricants can be more effective than water-based lubricants (4).
One small downside is that if you use silicone toys during intimacy, silicone lubricant can break down toys. Otherwise, the only downside is that silicone-based vaginal lubricants can be expensive. But why not give your vagina the very best?
Best Silicone-based Vaginal Lubricant
Water-based Vaginal Lubricants
Water-based vaginal lubricants can be sticky, irritating, and don't last very long. And, if dryness or irritation is already present, some water-based lubricants can make dryness worse.
Most water-based vaginal lubricants can damage or dehydrate vaginal tissue because they contain ingredients like glycerin and propylene glycol. These ingredients are harmful because they have a high osmolality - meaning they can dry out the skin. Not only does high osmolality cause irritation and discomfort, it can open the door to bacteria and infection (1).
There are some good water-based lubricants out there. You just have to look carefully to ensure they don't contain glycerin or propylene glycol. Lubricants like K-Y Jelly and Astroglide should be avoided since they contain glycerin or propylene glycol and have an osmolality that's almost 10 times greater than the ideal osmolality.
Best Water-based Vaginal Lubricants
Good Clean Love BioNude Ultra Sensitive Personal Lubricant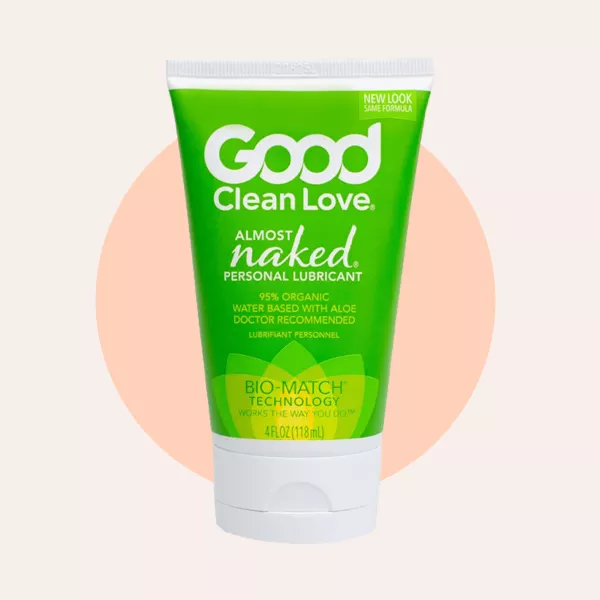 Ingredients: Purified water, Hydroxyethylcellulose, Xanthan Gum, Carrageenan, Sodium Chloride, Lactic Acid, Potassium Sorbate, Sodium Bonzoate, Ceratonia Siliqu Gum, Calcium Chloride.
Benefits: No irritating ingredients.
Price: $9.99
Oil-based Vaginal Lubricants
Products like petroleum jelly and plant-based oils may be convenient because you can find them in your bathroom or kitchen cupboards, but they're not very vagina-friendly. In addition to causing vaginal irritation, oil-based lubricants don't prevent friction very well because the consistency is very thin.
Petroleum jelly. Petroleum jelly is not recommended as a vaginal lubricant. One study showed that women who routinely put petroleum jelly inside their vagina were more than twice as likely to develop bacterial vaginosis (2).
Olive oil or coconut oil. Plant-based oils like coconut oil are fine to use as a vaginal lubricant in a pinch, but not on a regular basis. Regular use of these oils may increase your risk of yeast infection (2).
Other Types of Lubricants
Flavored lubricants. Flavored lubes are a water-based lubricant that are not recommended because they have a very high osmolality, meaning they can draw away moisture from the vaginal skin.
Warming lubricants. Certain lubricants exert a warming effect through chemical ingredients. These lubricants have a very high osmolality and can cause vaginal dryness to get worse. If you're having problems with vaginal dryness and irritation, stay away from chemically warming lubricants.
CBD lubricants. The idea is that CBD will increase blood flow to the vaginal tissues and that since CBD has anti-inflammatory properties, it will also reduce pain. However, evidence on the effectiveness of CBD as a vaginal lubricant is non-existent.
Vaginal Lubricants: Pros and Cons
When you compare the benefits of vaginal lubricants, silicone-based lubricants are a reasonable choice, especially for women with dry and sensitive vaginal skin.
| Type of lubricant | Non-irritating | Slippery texture | Long-lasting | Condom friendly | Non-drying | Safe for regular use |
| --- | --- | --- | --- | --- | --- | --- |
| Silicone-based lubricants | Yes | Yes | Yes | Yes | Yes | Yes |
| Water-based lubricants | Varies | No | No | Yes | Varies | Varies |
| Oil-based lubricants | No | No | Yes | No | Yes | No |
Vaginal Lubricants vs. Vaginal Moisturizers
While it might seem that vaginal moisturizers and lubricants are the same thing, they are not. A lubricant provides a slippery barrier on top of the vaginal tissue to help reduce friction. It's used only during sexual activity and does not change or heal tissue. Vaginal moisturizers, on the other hand, are used regularly to help heal and moisturize the skin in and around the vagina.
How Can I Restore Natural Lubrication?
Many perimenopausal, menopausal, and post-menopausal women will find that lubricants and moisturizers are insufficient. After years of lack of estrogen, the vaginal tissues can become so thin and so dry that the only way to address the concern properly is to get a prescription for a medication that will restore moisture, elasticity, and natural vaginal lubrication.
Several safe and effective medications exist that can reverse vaginal dryness, including topical vaginal estrogen, vaginal DHEA, and ospemifene.
Vaginal estrogen for example has not been shown to carry serious health risks. Yet many women are still concerned about the safety of vaginal estrogen. If you have questions about vaginal estrogen, we recommend to read What Do We Know About Vaginal Estrogen? - our comprehensive guide to common questions about safety.
Conclusions and Next Steps
When building your toolkit for vaginal health, vaginal lubricants and moisturizers can be a great first choice. We recommend trying different lubes to see what works for you, and silicone-based is a good place start.
However, many women will find that vaginal lubricants and moisturizers are not adequate. In this case, vaginal estrogen can be a safe and effective option. Wherever you are on your vaginal health journey, our medical providers are here to help.
Disclaimer: This information isn't a substitute for professional medical advice, diagnosis, or treatment. You should never rely upon this article for specific medical advice. If you have any questions or concerns, please talk to your doctor.
References
(1) Wysocki, Susan et al. "Management of Vaginal Atrophy: Implications from the REVIVE Survey." Clinical medicine insights. Reproductive health vol. 8 23-30. 8 Jun. 2014, doi:10.4137/CMRH.S14498
(2) Fuchs EJ, Lee LA, Torbenson MS, et al. Hyperosmolar sexual lubricant causes epithelial damage in the distal colon: potential implication for HIV transmission. J Infect Dis. 2007;195(5):703-710. doi:10.1086/511279
(3) Brown JM, Hess KL, Brown S, Murphy C, Waldman AL, Hezareh M. Intravaginal practices and risk of bacterial vaginosis and candidiasis infection among a cohort of women in the United States. Obstet Gynecol. 2013;121(4):773-780. doi:10.1097/AOG.0b013e31828786f8
(4) Pitsouni E, Grigoriadis T, Douskos A, Kyriakidou M, Falagas ME, Athanasiou S. Efficacy of vaginal therapies alternative to vaginal estrogens on sexual function and orgasm of menopausal women: A systematic review and meta-analysis of randomized controlled trials. Eur J Obstet Gynecol Reprod Biol. 2018;229:45-56. doi:10.1016/j.ejogrb.2018.08.008
(5) Hickey M, Marino JL, Braat S, Wong S. A randomized, double-blind, crossover trial comparing a silicone- versus water-based lubricant for sexual discomfort after breast cancer. Breast Cancer Res Treat. 2016;158(1):79-90. doi:10.1007/s10549-016-3865-1